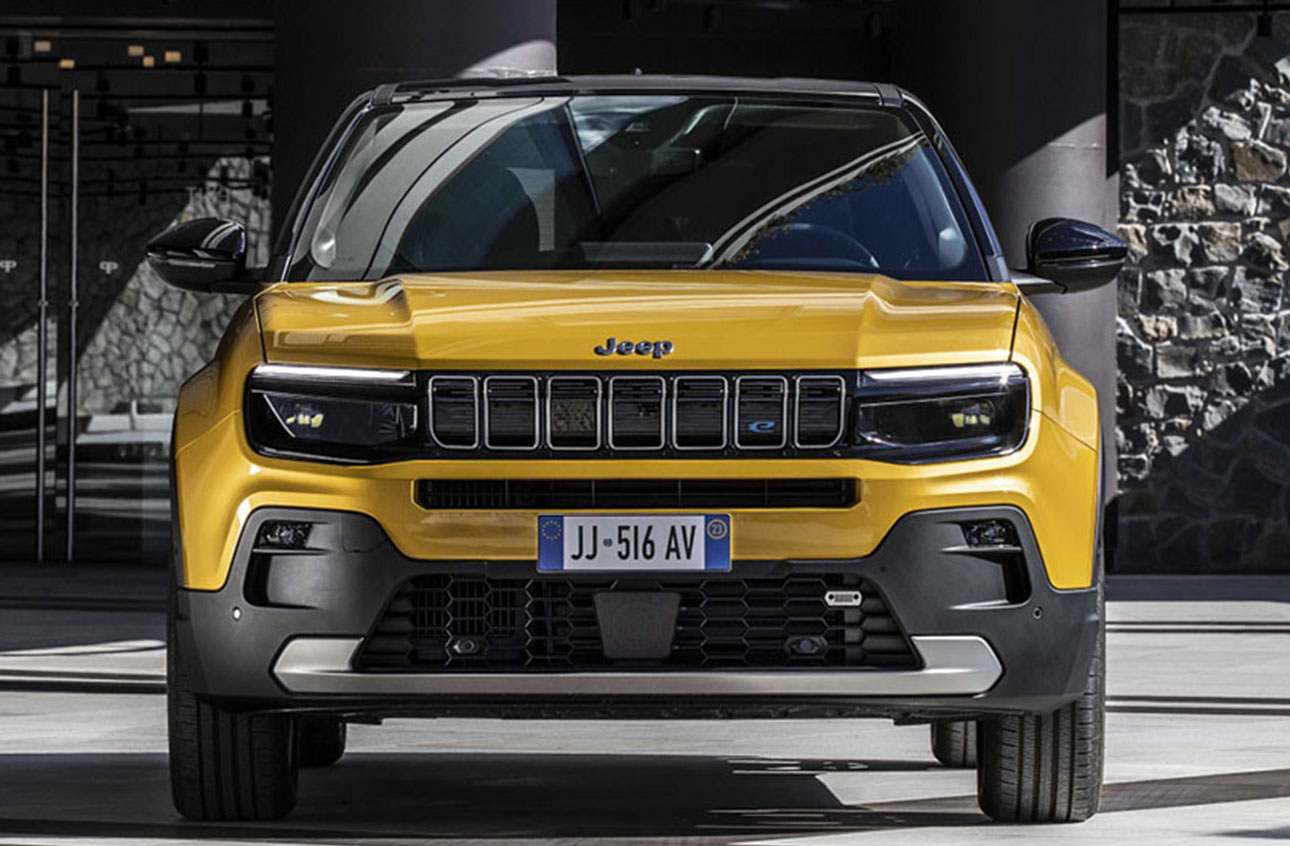 10 November 2023
The all-new Jeep Avenger is arriving in 2023.

Award-Winning Jeep Avenger, the brand's first-ever battery electric vehicle (BEV), is heading to New Zealand
Limited numbers available - only 50 launch edition models arriving this December.
54.0 kWh capable of up to 400km Combined Range (WLTP) and up to 570km Extra Urban Range
The first all-electric BEV for Jeep, stays true to the Jeep brand's DNA.
5 Star Euro NCAP Safety Rating
International media acclaim, collecting over 5 prestigious titles including European Car of the Year 2023
Jeep Avenger spearhead's the introduction of all-new Jeep brand BEVs around the world
7 brand new colour choices with unique environmental names
Pricing for the Launch Edition model is $59,990 driveaway after rebate. Available only while clean car rebate applies.
Interested customers can now secure their vehicle online at Jeep.co.nz
10th November 2023 - Jeep New Zealand confirms the all-new award-winning Jeep Avenger, the brand's first-ever 100% battery electric vehicle (BEV), will arrive in NZ this December.
Limited to only 50 Launch Editions, the Jeep Avenger will be available in 7 unique colour choices and customer orders can be secured by visiting the jeep.co.nz website.
Since it was unveiled in October 2022 and launched in Europe in April 2023, the Jeep Avenger has been well received by international media, taking home a variety of awards including European Car of the Year 2023, World's Best Family SUV in the Women's World Car of the Year Awards, Electric Car of the Year in TopGear.com Electric Awards 2023, Best Small Car at Autocar Awards 2023, and Small BEV Autovista Group Residual Value Award 2023.
"The impending arrival of the award winning, all-new BEV Jeep Avenger to New Zealand is very timely and is the right choice for those who are looking for a compact, robust, and stylish SUV that exudes state of the art technology, space, and comfort, while staying true to Jeep design. All of this while offering the satisfaction of a zero-exhaust emission SUV, which compliments Jeep NZs already established clean car position in the industry and will continue to help with New Zealand's overall goal of decarbonisation." states Todd Groves, General Sales Manager for the brand in New Zealand.
The compact Jeep Avenger offers zero exhaust emissions and 100% adventure and passion with an electric range of up to 400km* Combined (WLTP) and spearheads the introduction of a portfolio of capable, fully electric vehicles, in a global electrification strategy as the brand moves towards becoming the world leader in zero exhaust emission SUVs.
Jeep Capability
The Jeep Avenger is an appealing choice for those looking for a cleaner alternative with true Jeep capability. Designed and built as a Jeep vehicle from day one, the Avenger packs the Jeep DNA into a compact SUV with a unique combination of capability, style, functionality, and technology to satisfy the needs of ever-connected customers. The brand has adapted its traditional design cues for the Avenger, meaning it is indisputably a Jeep SUV, but not one the market may expect. The all-new Jeep Avenger stands out for its determination and adventurous spirit in a compact dimension. It's 6 mode Selec-Terrain and Hill Descent Control technology lets you adapt to any weather conditions on the road ahead and its generous ground clearance lets you face conditions easily.
All-new electric powertrain
Avenger offers class-leading energy consumption at 15.4 kWh per 100 km in the WLTP cycle. This result is made possible by the extreme efficiency of a new propulsion system, but also by the extreme lightness of the vehicle.
To extend the autonomy range, each specific Avenger element has been developed to achieve maximum performance and efficiency. The starting point was the light and efficient eCMP2 electric platform to which 600 components have been modified.
The M3 power unit adopted on Avenger is a second-generation, highly efficient 400-Volt e-motor. It is the first power unit launched by eMotors – the STELLANTIS 50/50 joint venture with NIDEC, and it delivers 115 kiloWatt (corresponding to 156 horsepower) and 260 Nm of maximum torque.
Another key element that allows high autonomy range is the battery. Avenger's new 54 kWh battery is also produced by STELLANTIS in the Tychy plant, and it offers top energy density together with an excellent ratio between nominal and usable energy – which is 51 kWh.
The battery system is very compact and is located under the front and rear seats and the central tunnel, with virtually zero impact on the vehicle. To consider that the battery is twice protected: by high ground clearance and by specific under-body skid plates, whose resistance in case of crash exceeds the requirements of the most stringent regulations.
A key element of Avenger's electric propulsion is the charging system. The standard on-board charger delivers 100 kW in direct current (corresponding to 0 to 80% charge in 34 minutes in fast-charging mode), and 11 kW in alternating current (corresponding to 0 to 100% charge in 5 ½ hours when connected to a public station). High power and torque and a specific e-powertrain calibration allow the Avenger to offer uncompromised fun to drive on road and off-road on a compact platform.
Contemporary Jeep Design
The Avenger follows a "design approach" offering a modern interpretation of Jeep design in a compact package. The front of the vehicle displays the iconic 7-slot grille, an authentic Jeep brand signature which has evolved from a vertical to a more horizontal pattern for functional efficiency.
The bent-over grille is positioned in front of the headlamps to protect them in case of impact. The bulging fenders, another classic Jeep design element, offer a sense of strength and robustness while communicating a solid and imposing presence on and off-road.
The side view is marked by the classic trapezoidal wheel arches, designed to optimise wheel travel for maximum articulation. The vehicle features imposing 18-inch wheels, with a robust design and diamond cut finish. The silhouette was carefully crafted to maximise the aero efficiency and convey a sense of dynamism, reinforced by a floating "C" pillar, which is a familiar trait within the current line-up.
In the rear, the vehicle features signature-lights inspired by the classic X fuel cans. This "X" is a recurring theme inside and outside via the "X-Camo", a pattern which combines the concept of "camouflage" with the letter "X".
In a nod to the first Jeep vehicles, the seven-slot grille, boxy shape, and rear lights styled to resemble a fuel can, all remain. The high ground clearance affords good visibility from the cockpit, yet the drive is comfortable and there is little body roll, making it feel planted on the road.
Jeep Avenger is available in seven unique colours inspired by the Jeep world of adventure, freedom, and nature: three pastels (Snow White, Volcano Black and Ruby Red) and four metallic colors (Sun Yellow, Evolution Grey, Ceramic Azure and Stone Grey).
360 degrees of protection
Jeep Avenger has been designed to offer 360-degree body protection and full freedom of movement. Its 360-degrees shock protection, encased protected lights and colour-moulded skid plates make it the ideal travel companion in urban and off-road driving.
Functional Interior
At 4.08 meters the Jeep Avenger is the most compact Jeep but offers a roomy and versatile interior comfortably fitting five people and luggage. The interior continues Jeep's "design to function" premise offering 34 litres of interior storage, the equivalent of a carry-on bag while the 1 meter-wide, square-shaped boot is also spacious and extremely versatile, designed with flexibility and modularity in mind.
Design to function rules have also been applied to the boot. Its total cargo volume is among the best in the segment (380 litres) and its functionality can be seen in its sill height of the boot loading which has been lowered down to 720mm, the rear hatch width which has been increased to over one meter and the addition of a hands-free power liftgate which is not usual in the segment.
Safety
The Jeep Avenger has achieved a 5-star Euro NCAP safety rating. Along with all-terrain and all-weather capability which translates into fun and safety and leads in the B-SUV segment in both respects. A complete series of safety and ADAS features which provide level-2 driving autonomy include: Blind Spot Monitoring, Autonomous Emergency Braking with Vulnerable Road Users (pedestrian and cyclist) protection, Automatic Parking and Park View Rear Backup Camera.
State of the art technology: always connected
Designed for the "always connected" customers, the new Jeep Avenger ensures a great digital on-board experience with a 10.25-inch radio screen Uconnect Infotainment combined with full digital cluster available.
Pricing for the All-new 100% Electric Avenger Launch Edition is $59,990. With an RSP of $67,005 including on road costs minus the New Zealand Government Clean Car Rebate while it lasts.
The Jeep Avenger Launch Edition arrives in New Zealand this December with only 50 vehicles initially available. Secure one via the Jeep NZ website: https://jeep.co.nz/secure-your-vehicle-avenger